INMOTION P1F folding e bike is a kind of compact, effective and economic personal transport tool. Its fashionable and light structure design, as well as the lithium-ion power battery (high configuration) will provide you with joyful riding experience.
Pleases follow me to see this excellent foldable e bike. firstly, Here is the detail of dimension: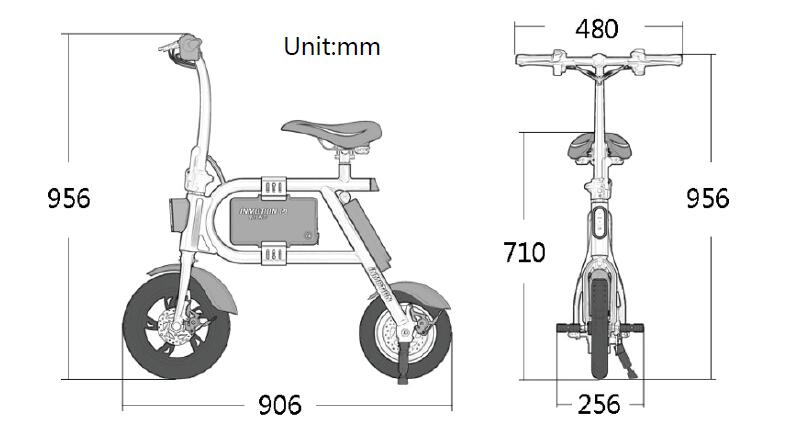 Then, Main specification of inmotion P1F you may care about:
| | |
| --- | --- |
| Model | P1F |
| Max. speed | The factory default of 20 km/h can be adjusted to 30km/h |
| Endurance Mileage | 35-40km |
| Climbing Angle | 12° |
| Net Weight | 13.5 kg |
| Load | 120 kg |
| Overall size | 906*480*956mm |
| Battery Specification(lithium battery) | 36V 8.7 Ah |
| Charging Demand | 100~240V 50~60Hz |
| Charging Time | About 6.0 hours |
| Tire type | Pneumatic tire, front 12 inch,rear 10 inch |
| Brake type | Double disc brakes |
| USB Discharge | Yes |
| Dust & Water Proof Level | IP54 |
Above the table, this speed is measured under 70kg of the human body 20 km per hour.The max. cruising speed can be set at 30km/h through the APP once its total riding mileage reached 10km.
Endurance mileage is 25℃, 70kg load, Riding at an even speed with 20km per hour, measured under flat road. Riding habit, environment,temp., road condition, load and other factors will affect the endurance mileage. Different E-bike types and battery models will result in different endurance mileage.
Waterproof and dust-proof grade is IP54.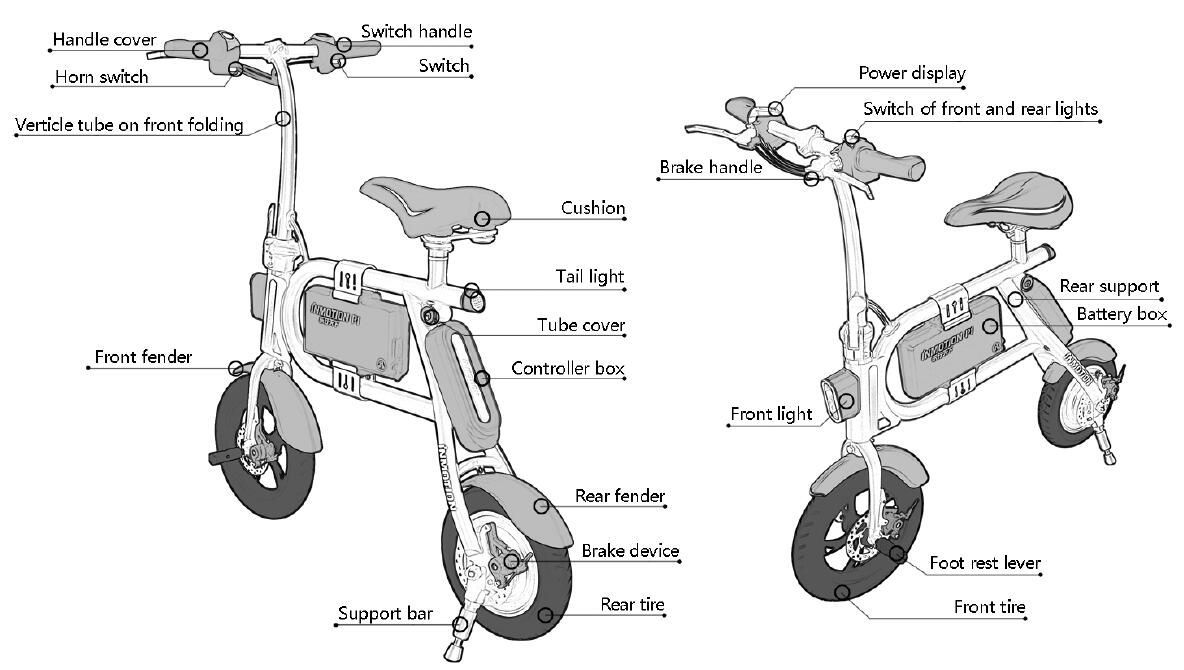 INMOTION folding e bike is a kind of technological travel tool, one of the best folding e bike. Riding without better understanding of the operation specification will result in unpredictable injury. The following instructions are explained in details on how to correctly ride the mini e bike folding for green hands, especially those who ride it for the first time,and list all precautions during the riding. Please carefully read it and ride folding e bike electric as required.
When riding or parking INMOTION e bike folding mini electric bike, it will cause loss and affect the using performance of the product. Therefore, before riding, please pay attention to the following notes:
• Please check if all parts of the E-bike are well installed without damage.
• Please check if the brake is well.
• Please check if the folding mechanism is locked.
• Please check if there is enough power.
• Please check if the tire is well.
• Please check if the handle is fixed. Once loose, please screw it down.
• You need to find an open and flat place with the square of at least4m * 20m to practice riding, indoor and outdoor are OK.
• You need to have a deep understanding to the surrounding riding condition, in order to ensure not to be disturbed by the cars, pedestrians, pets, bikes or other obstacles.
• You need a skilled assistant who is familiar to ride folding E-bike and knows about all precautions and riding methods in this manual.
• Please do not test on smooth and wet ground.
• Please wear a helmet or other protectors to avoid possible injury.
For your safety, please read over manual before riding folding E-bike, and carefully watch the instructional video to correctly ride folding E-bike.
• Knowing all the listed safety warnings and precautions will help you better ride the folding E-bike.
• This manual is applicable of all folding E-bikes manufactured by INMOTION TECHNOLOGIES CO., LTD.
• Any questions or any information you cannot get from this manual, please immediately contact INMOTION authorized agency or INMOTION after-sales department.
Glad to Hope you have a happy riding with our folding E-bike.