Heavier adults will have different needs when it comes to electric scooters. To help you find the electric scooter for heavy adults, we have tried out a number of top electric scooters across a variety of classes, ensuring they were powerful enough to support large loads. Now read this post to check out our top 5 best electric scooters for heavy adults picks in 2022.
Part 1. What Affects Maximum Weight Limit?
There are some factors combing to determine the weight limit of an electric scooter. Understanding these components will help you make a wiser purchase.
1. Battery and motor power
One of the most important factors you should consider is the electric motor. The weak battery capacity and a smaller motor will dramatically reduce maximum weight capacity.
2. Scooter frame
The sturdiness of an electric scooter's frame will affect how much weight it can carry. A flimsy build will be unlikely to cope with higher loads. When buying an e-scooter with greater body mass in mind, ensure you choose a high-quality model built with strong, durable materials.
3. Braking power
Given that an increased load will result in longer braking distances at higher speeds, the braking capacity of an e-scooter needs to be given a higher priority for a heavier rider.
Part 2. Best 5 Electric Scooter for Heavy Adults
There are plenty of heavy-duty electric scooter made for heavy riders on the market. Here, we picked up 5 best of them with the purpose to give you a good idea which e-scooter work best. Just check them out.
INMOTION S1

Ninebot ES4

Turboant X7

GoTrax XR Elite

Dualtron Thunder

Max. Payload

309lbs


220lbs

275lbs

220lbs

265 lbs

Max. Range

59 miles

18.6 miles

8.9 miles

18.6 miles

75 miles

Max. Power

1000w

800w

350w

300w

5400w

Max. Speed

18.6mph

20mph

18.6mph

15.5mph

50mph

Max. Climb

30%

15%

15%

15%

25%

Shock Absorber

yes (front & rear)

yes (front & rear)

no

yes

yes (rear)

Tire Size

10 inch

8-Inch Front
7.5-Inch Back

10 inch

8.5 inch

11 inch

IP Rating

IP55

IPX5

IP54

IP54

no

Battery Capacity

675Wh

800Wh

230.4Wh

281Wh

2060Wh
1. INMOTION S1
When it comes to the best electric scooter, the INMOTION S1 definitely takes the cake. This popular electric scooter has an unbeatable 308lbs maximum load capacity, which is generally enough to carry 2 adults.
With a 1000w brushless motor and 675Wh lithium batteries, S1 is able to power the motor and supply an extreme long range of up to 59 miles on a single charge. Also, S1 can easily take on up to 30% grade slopes, inclines and any terrains with ease.
The suspension of S1 is as good as you can expect. S1 is built with both front and rear wheel suspension, the ride comfort and quality you get is unrivaled.
The S1 offers 3 ride modes to adapt to any situation, you can easily switch between ECO mode, Standard mode and Sports mode.
Featuring the smart battery management system, you can rest assured that the battery is being used safely and will last longer.
INMOTION app make your ride truly smart, you can monitor your ride statistics in a few simple steps. Also, with the advanced LCD control panel, all important information is displayed at once and clearly visible.
2. Ninebot ES4
If you've got a long commute, this Ninebot ES4 scooter is a great option for heavy riders who weigh up to 220 lbs. It offers an impressive maximum mileage of 28 miles (around 3-5 miles less in real-world riding conditions) thanks to the addition of a second external battery on the handlebar post stem. You won't only be relying on a single battery to get you where you need to go but will have double power behind you.
The ES4 isn't the fastest scooter on the market, but its 300w motor has a peak output of 800W which is pretty punchy. You might find that its power surprises you. When you push the throttle to the max, it will propel you along at a top speed of 18.6 mph, which is faster than the XR Elite.

The ES4 can handle slopes of 15-degrees but those sitting closer to the top end of the weight limit might find it slow going on steeper inclines.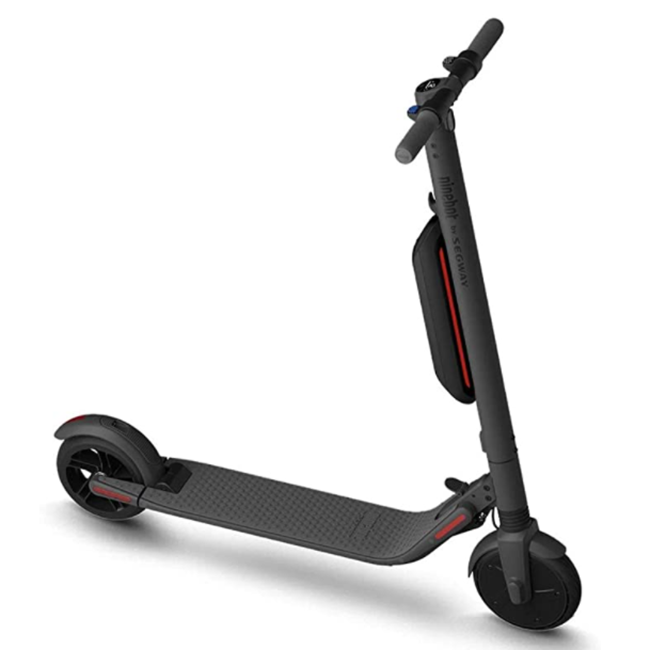 3. The Turboant X7
One of the options we would like to recommend for the electric scooter for heavy adults is theTurboant X7 Pro. With the robust and sturdy frame, this Turboant X7 offers a maximum load capacity of 275lbs, which is plenty for most grown-up riders, and this is fairly impressive when considering the reasonable price.
In addition to the big weight capacity, the Turboant X7 Pro is equipped with a powerful motor as well.
The power output stands at a comparably modest 350W, meaning the X7 Pro may struggle to reach higher speeds — especially when used by a heavy rider.
The range also takes a hit due to the price point with a maximum of only 30 miles. For those who only make short commutes to work, this shouldn't be much of an issue. Like the other electric scooters above, the Turboant X7 Pro is foldable but it's significantly more portable.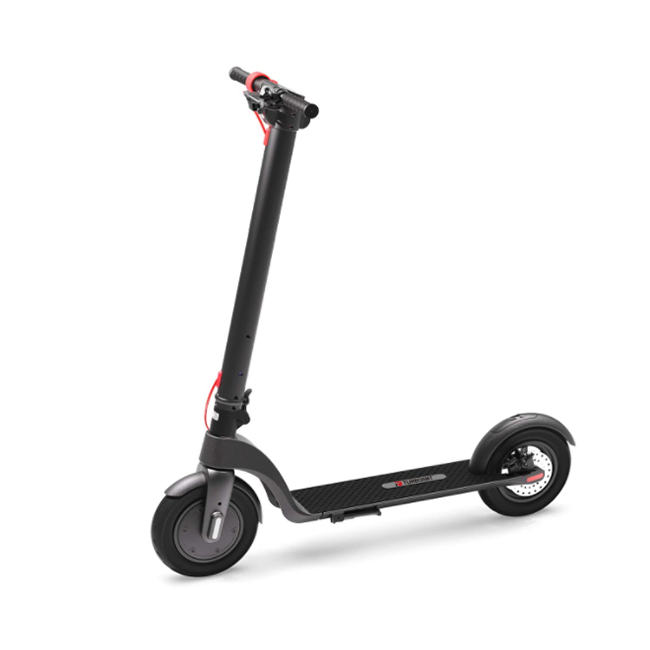 4. GoTrax XR Elite
GoTrax XR Elite is another excellent electric scooter for heavy adults. It can support riders of up to 220 lbs and the roomy deck and air-filled tires deliver a smooth and balanced ride.
The 300W motor also has a good amount of power to get a variety of riders up to its top speed of 15.5 mph. This is an ideal speed for casual exploration or inner-city commuting and the torque output is good enough that you can tackle 15% hills easily, even if it is at a slightly slower pace.
Besides, the GoTrax XR Elite comes with an anti-slip 6.6"deck which is perfect for enhanced balance and has enough room for riders to find a comfortable riding stance.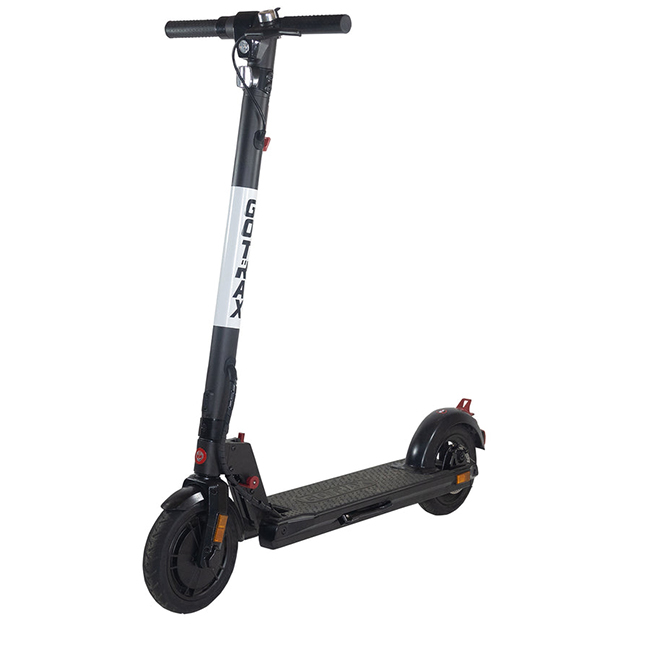 5. Dualtron Thunder
Dualtron thunder is also a great scooter for big and tall riders. Thanks to its high-quality, premium frame, Dualtrom can effortlessly handle a bigger rider. The Dualtron Thunder can handle riders up to 260 lbs.
It has an amazing 5400w of peak power, meaning it'll reach the top speed in no time.
Hills are no problem, and heavier riders will appreciate how much power this scooter has. It's tough, durable and stable. The Thunder has a maximum range of 74 miles, but heavier riders should expect to get 40 miles.
The suspension makes it ride like a dream; it has dual piston suspension and quality pneumatic tires. The suspension system is adjustable too, and you can customize it to your liking.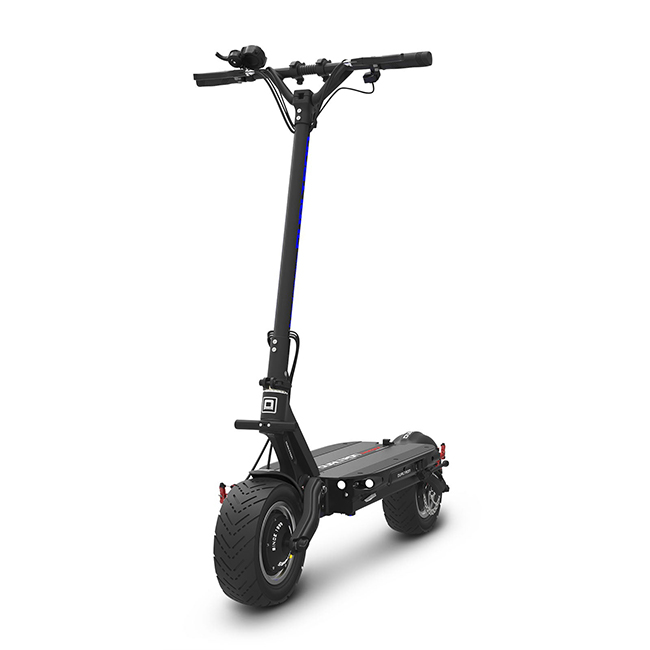 Now that we have shared our thoughts on the best electric scooters for heavy adults, as well as 5 top picks from different categories and price ranges. We want to know which e-scooters you think are great! Let us know after reading this blog post, feel free to share it with your friends who also love crusing.