Ranges for electric scooter depends greatly on style of ride and terrain. Hills will require more power from the motor and drain the battery much quicker.
However, battery technology is improving enormously each year, and we are seeing expected ranges for average use increase consistently. As such, electric scooter are becoming increasingly popular as daily commuter or traveler.
But there's lots of options for long range e-scooters on the market today. To help you find the best one to serve your travel or commute needs, we spent hours do some digging and rounded up the top 5 long range electric scooter, and analyzed the pros and cons of each we recommended in details. Now take a glance at out top picks below.
1. INMOTION S1 Electric Scooter
The INMOTION S1 takes our top prize for the best long distance electric scooter of 2022. If you are looking for an electric scooter for long-distance travel or commuting, it's possible to ignore.
With a 1000w brushless motor and 675Wh lithium batteries, S1 is able to power the motor and supply an unbeatable range of up to 59 miles on a single charge. This is 40% longer than similar scooters in the high-end commuter class, making it the best electric scooter for those who have long rides. Also, thanks to the powerful moter, S1 can easily take on up to 30% grade slopes, inclines and any terrains with ease.
The suspension of S1 is as good as you can expect. S1 is built with both front and rear wheel suspension, it will mitigate the impact with small bumps, the ride comfort and quality you get is unrivaled.
S1 has high-mounted, ultra bright front LED headlights, the 10-inch tubeless pneumatic tires in both front and rear, and ultra wide rubbrized anti-slip deck delivering optimal stability, comfort and balance without compromising safety.
The S1 offers 3 ride modes to adapt to any situation, you can easily switch between ECO mode, Standard mode and Sports mode.
Featuring the smart battery management system, you can rest assured that the battery is being used safely and will last longer.
INMOTION app make your ride truly smart, you can monitor your ride statistics in a few simple steps. Also, with the advanced LCD control panel, all important information is displayed at once and clearly visible.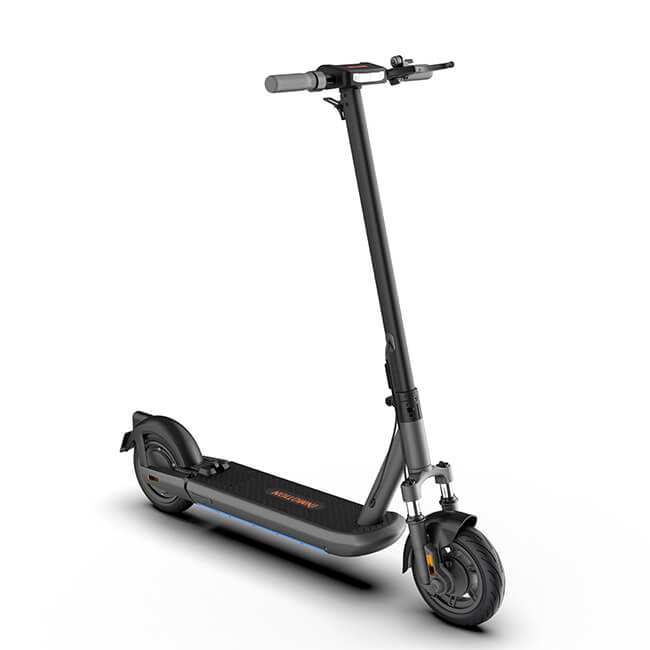 Pros:

l The electric scooter with longest range so far
l Dual shock absorption design
l Powerful yet quiet brushless motor
l Excellent hill climbing capacity
l Ultra bright headlight and smart turn signals
l Choose from 3 speed modes
l supports weights of up to 309 lbs
l Mobile app enabled
l Responsive support
l Cruise control
Cons:
l Heavy
2. Gotrax GMax Ultra
With the impressive range and battery capacity, the Gotrax GMax Ultra is our number two tip for the best long range electric scooter available right now.
This electric scooter comes with an incredible 630Wh battery capacity with a maximum travel range of up to 45 miles on a single battery charge depending on the riding mode, so it is a perfect daily ride to go to work or school.
Its powerful 350w electric motor boasts a top speed of 20 mph and max load of 220 lbs. And it can easily climb hills up to 20% incline.
Besides, the GoTrax G Max features 10-inch pneumatic tires that can offer more grip and absorb shocks make riding comfortable, even on rough road or bump terrain.. Its 6.7 inch widen deck provides greater comfort for both of your feet.
Unlike some other stand up e-scooters, this scooter is lightweight and foldable, so you can take it anywhere. The dual-battery model weighs just over 30 pounds, and it supports riders weighing up to 220 pounds.
It also supports some customizable LED lights under the deck between the tires. Those and some other settings can be adjusted in the iOS and Android apps.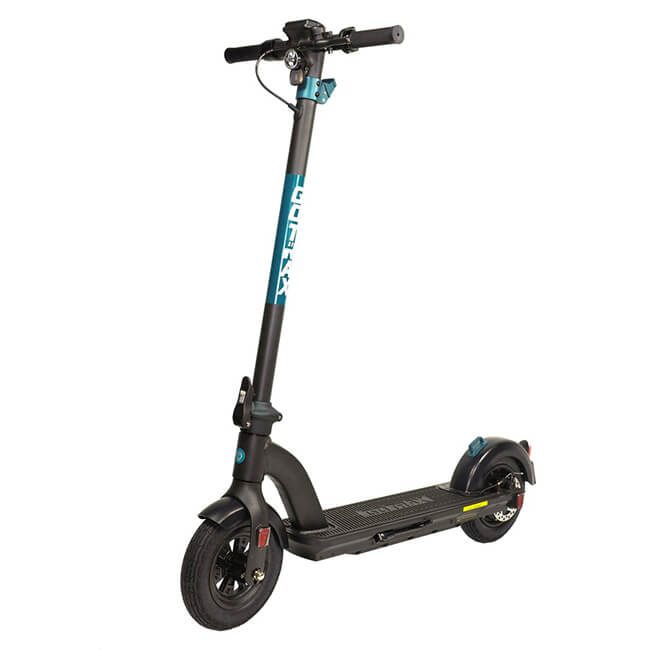 Pros:
l Excellent range
l Fast speed
l Lightweight and foldable
Cons:
l Slow on inclines
l No rear brake light
l A little tricky to assemble
l Battery drains quickly at high speeds
l Narrow deck
l Does not support larger riders
3. Ninebot Max
The Segway Ninebox Max is another reliable electric scooter that can take you very far. It offers a range of up to 40 miles on a full charge. This e-scooter has a powerful rear-wheel drive 350w motor, which can hit up to 18.6 miles per hour at full throttle, making it one of the fastest scooters in this price bracket
With large 10-inch inflatable air-filled tires, the e-scooter Max will not only be able to get up hills of 20% inclines with ease, but make for a more comfortable ride than most of similar products.
This dashboard of Segway Ninebox Max is incredibly straightforward and simple to use. It gives you quick access whether you're simply checking your speed or changing the ride modes.
One feature I really appreciated was the charging cable. It's a generic power cord with no brick, making it easy to carry around or replace. The 551-watt-hour battery can be fully charged in six hours.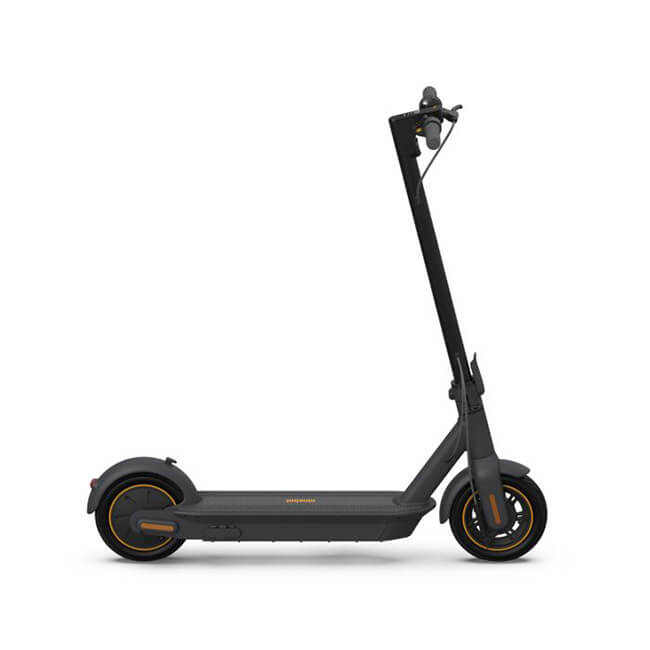 Pros:
l Excellent range for its class
l Beefy world-class construction
l Pre-slimed tubeless pneumatic tires
l Comfortable ride with wide deck
l Loud, easy to use bell
Con:
l No shock absorber
l Does not support larger riders
l Does not have zero start
l Lacks zippy acceleration
l Heavy for its dimensions
4. Unagi Model One E500

Unagi Model one E500 is a great option for commuters, offering a slightly more premium experience
Due to the dual 250-watt motors, the E500 required a slightly larger battery (28.8 volts) than the E450 to maintain the same travel distance. The Unagi Model One powers up hills with aplomb, zipping along twice as fast as other scooters with just a single motor. Using both motors (you can opt to use just one) causes the battery life to drop significantly lower than the scooter's advertised 15-mile range.
The electric scooter can support riders up to 270 pounds, with a top speed of 18 mph and a travel distance of 15 miles.
We were also enamored with the Unagi's sleek design; its carbon-fiber front post changes in geometry from a circle to a triangular shape, making for an intriguing look. And, on Unagi's site, you can personalize the look with custom skins.
Pros:
l Fast speed
l The throttle control is responsive and smoother
l Powerful brushless motor
l LG batteries
l Has dual electronic brakes plus a rear foot brake
l has good portability
Cons:
l Short range
l Rougher ride than other scooters
l Expensive
l Slow on inclines
l Small rubber wheels, incomfortable ride
5. HiBoy S2 Max
The Hiboy S2 Max is one of the most compact but powerful electric scooters with long range. It also packs a satisfying level of power and speed.
The 500w electric brushless hub motor allows for speeds up to 19mph. And you can adjust the speed from 3 speed modes available from 11mph to 16mph to 19mph based on your needs.
Equipped with 557Wh high-capacity battery, S2 Max can offer a max travel range of up to 40miles.
It's important to note that this scooter can conquer inclines of 20 degrees or less with ease.
The 10-inch solid tires and the suspensions of S2 Max provide smooth and care-free rides, without the threat of flat tires, making it great for all types of roads.
The Hiboy S2 Max is one of the few units in its price range to offer dual spring rear suspension.
The S2 Max comes with an LED dashboard which many riders love due to how it operates and the simplicity of the effective design.
The Hiboy S2 is known for its reliable and solid parts. Its build quality is more than decent, and the finishing touch gives it an air of a more expensive scooter. There are hardly any flimsy, loose, moving, or wiggling parts.
Furthermore, the muscular frame can withstand several dumps and hits without warping or denting. If the scooter gets damaged, it is covered with a 12-month warranty. Most of the frame is also sealed and has some capabilities to resist water.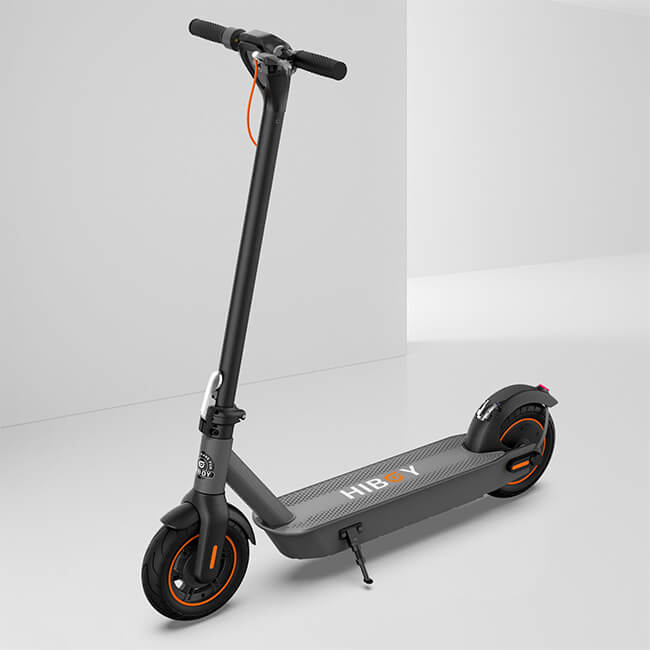 Pros:
l Great range of 30 miles
l Rear dual shock absorption
l Fairly lightweight at 36.3 lbs (16.5 kg)
l Ultra-bright headlights & rear lighting
l Decent 18.6 mp/h (30 km/h) top speed
Cons:
l Minimal off-road functionality
l Slightly low power 350W motor
l Average charge time of 6 hours
In this post, we have already narrowed down your best long range electric scooter selection to five. As long as you already have what you need in an e-scooter in mind, choosing the perfect unit will come easy.
And if you completely have no clue as to where to begin, you can always consult this buying guide for more information.