Hannover, Germany, Jan 30, 2018 – INMOTION TECHNOLOGIES CO., LTD. was a winner of this year's iF DESIGN AWARD, a world-renowned design prize. The winning products, L8 and Scooterboard, won in the discipline of Bicycle, of the Sports/Outdoors category. Each year, the world's oldest independent design organization, Hannover-based iF International Forum Design GmbH, organizes the iF DESIGN AWARD.
L8 and Scooterboard won over the 63-member jury, made up of independent experts from all over the world, with the combination of innovative design and comfortable riding. The competition was intense: over 6,400 entries were submitted from 54 countries in hopes of receiving the seal of quality.
More information about L8 and Scooterboard can be found in the "Design Excellence" section of the iF WORLD DESIGN GUIDE.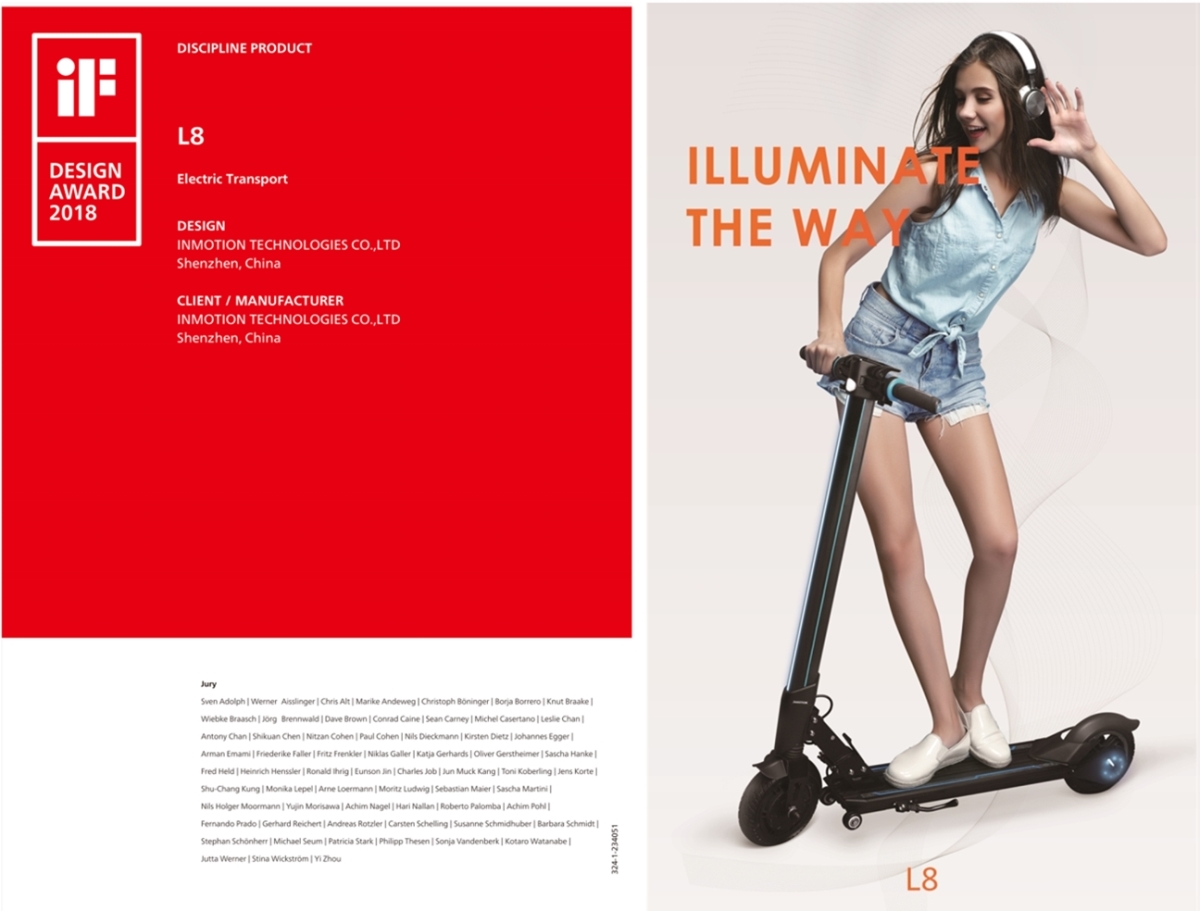 About INMOTION
INMOITON TECHNOLOGIES CO., LTD. is a high tech company specializing in the research and development of personal transportation vehicles. Since the introduction of the first generation of INMOTION Sensor Controlled Vehicle, our products are available in over 50 countries and are praised and used world-wide by politicians, celebrities, pop starts and sports car enthusiasts. Now our products expand to electric bikes, electric scooters, electric unicycles, electric skateboards, hoverboards, robots, etc.
About the iF DESIGN AWARD
For 65 years, the iF DESIGN AWARD has been recognized as an arbiter of quality for exceptional design. The iF label is renowned worldwide for outstanding design services, and the iF DESIGN AWARD is one of the most important design prizes in the world. Submissions are awarded in the following disciplines: Product, Packaging, Communication and Service Design/UX, Architecture and Interior Architecture as well as Professional Concept. All awarded entries are featured on the iF WORLD DESIGN GUIDE, in the iF design app and are displayed at the iF design exhibition Hamburg.
For more information, please contact:
Tel: +86 (0)755 25722469
Fax: +86 (0)755 25727563
Email: marketing@imscv.com
Add: 18/F, Building B1, Nanshan iPark,
No.1001 Xueyuan Ave., Nanshan District,
Shenzhen, Guangdong Province, China 518055