On January 27th, 2016, the winners of iF DESIGN AWARD 2016 was announced. INMOTION V3 (a smart elelctric unicycle designed and produced by INMOTION Technologies, Co., Ltd) with its innovative drop-sharped design won the iF Design Award 2016.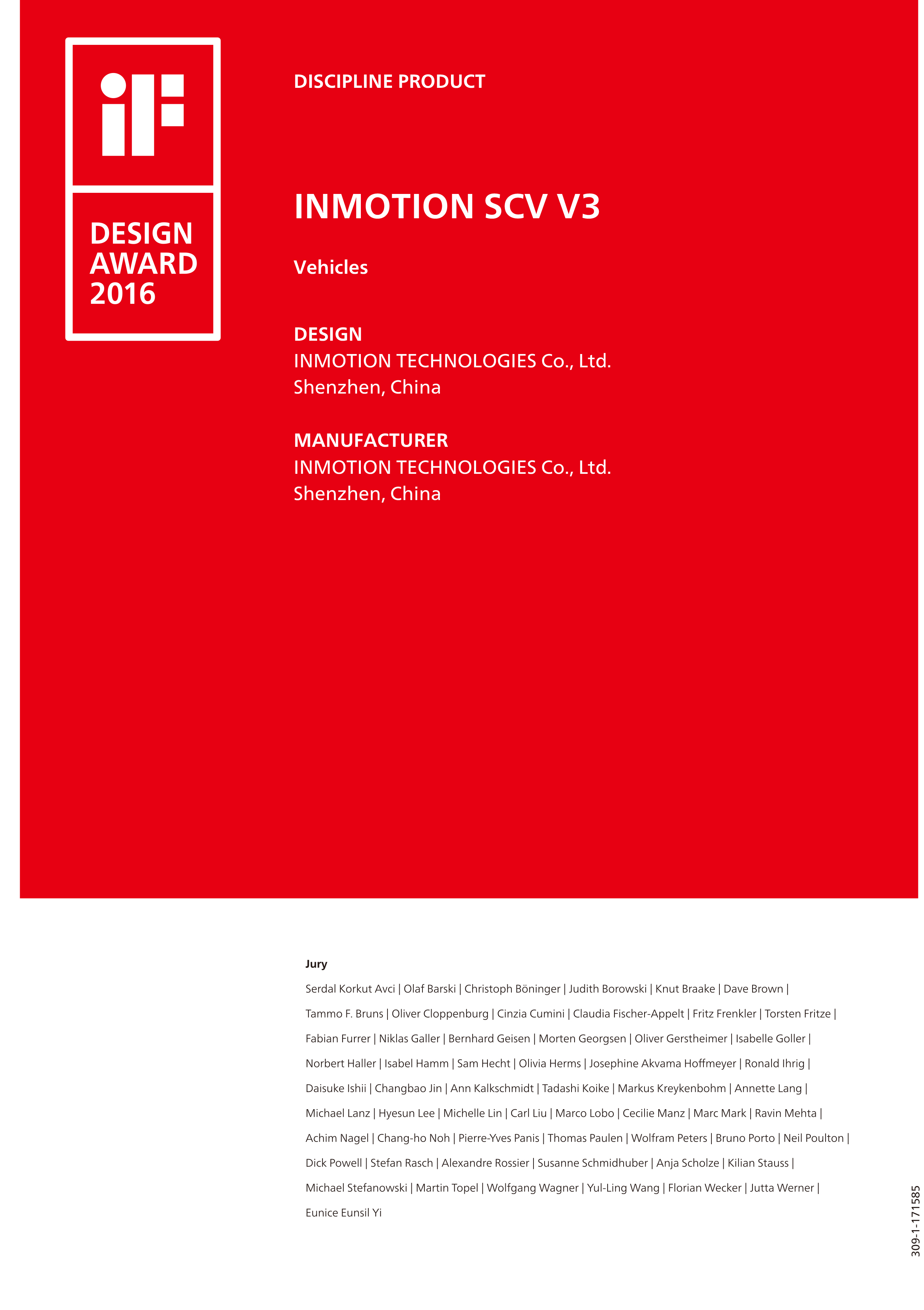 Each year, iF International Forum Design GmbH organizes one of the world's most celebrated and valued design competitions: the iF DESIGN AWARD. Recognized as a symbol of design excellence around the world, the iF DESIGN AWARD collects over 5,000 submissions from 70 countries every year.
INMOTION V3 was designed with innovative two-wheel and telescoping handle design, thus the vehicle is easy to ride and carry wherever a person desires to take. The vehicle is very flexible to ride at urban areas, even on grassy roads. This SCV offers sense of power, speed and total control to its rider. Also, Riders can connect INMOTION V3 to their smartphone app. It will provide better safety tracking the movement of rider, thus she or he can maintain balance while riding.
Besides iF Design AWARD, INMOTION V3 has entered Japan G-Mark design finalist and won China Red Star Design Award and Consumers' Favorite Product Prize for its unrivaled features, reliable functions, innovative technology and design in 2015, which presents the unmatched charm and innovation of INMOTION V3.
Contact
For distributors: info@imscv.com
For technical support: service@imscv.com
Phone: 0086-755-2690-6865
Official Website: https://www.inmotionworld.com
About INMOTION
INMOTION Technologies Co., Ltd. is a high-tech enterprise specializing in the research and development of electric unicycles, two/three-wheel scooters, electric bicycles, e-skateboards, etc, which are available in over 50 countries and regions of the world.