There is often confusion between the differences among electric bicycles, electric mopeds, and electric scooters. These are all 2 wheeled vehicles but are some different on mileage, legal requirements, benefits, and riding style. So without further ado, let's get into what these vehicles are and how they are different:
Definitions
Electric bikes are the only type that have functional pedals today, enabling the rider to get exercise while commuting.
Electric moped two wheeled is a hybrid of both motorized and human (pedaling) power, and occasionally resembles an electric bicycle. The term "moped" is derived from the two words "motor" and "pedal" .
Electric scooter is a plug-in electric vehicle with two or three wheels powered by an electric motor, and often resembles a motorcycle. The electricity is stored on board in a rechargeable battery, which drives one or more electric motors.
Legal Requirements
Each state and municipality may have different regulations, but in general an electric bicycle can go anywhere a bicycle can go. Electric bikes do not require a license or registration or insurance.
(check with your local government to see if the electric bike is allowed on your trials).
Mopeds in the USA often require a driver's license and insurance and some form of registration. And the excellent news in 2015 is that the UK government has finally agreed to bring electric motorcycles and scooters in line with electric cars, by offering grants.
Mopeds require licensing and/or registration in some Canadian provinces and American states. BC (Canada) has a category for Electric bikes (motor assisted cycles) and as separate one for limited speed motorcycles. In that jurisdiction, electric bikes must have pedals, else you need a driver's license. In the UK there is a similar rule for mopeds, that they must have pedals to qualify to be ridden on a car license.
Benefits
While Mopeds can often travel on street bike lanes, they cannot travel on sidewalks and park in bicycle areas. An electric bicycle can travel on bike lanes and paths and park in bicycle areas. An electric bike, when configured as a mountain e-bike can travel off road on trails. A moped cannot, as it is designed for city streets. A moped is generally allowed to have a top speed of 30MPH, while an electric bicycle is generally limited to 20MPH with motor only power (can go faster if the rider is actively pedaling)
Operation of both vehicle is similar as Electric vehicle dont use transmission, both Electric Scooter and Bike simply run by twisting the throttle. electric scooter have a low seat height and a luggage compartment.
Riding Style
Some mopeds have a step-through type design, while others have a step-over design, including a motorcycle-like frame, a "backbone" and a raised fuel tank, mounted between the saddle and the head tube. Most mopeds look similar to a regular motorcycle, except that it has pedals that the rider can power through a bicycle-like crank in addition to its small motor (under 50cc).
Electric scooters have a step-through frame and unlike a moped, have no pedals. Scooters resemble motorcycles more closely than mopeds and electric bicycles, and require licensing and registration in many Canadian provinces and American states.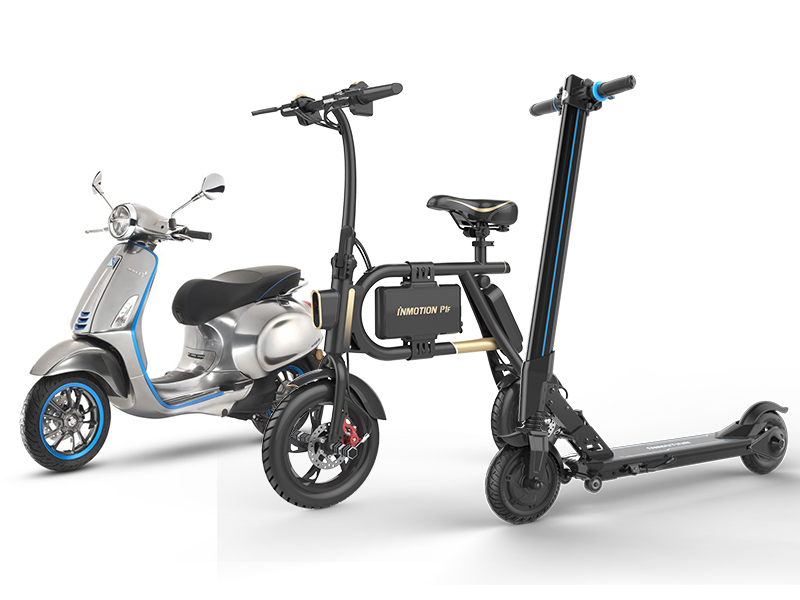 General, Electric bicycles, mopeds and electric scooters all provide economical personal transportation. They are powered by electricity. I hope can help you select a most suitable vehicles for yourself, and welcome to add more different information.